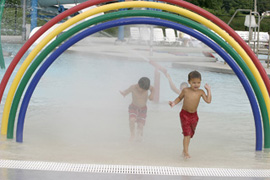 Full Control Is Designed Into Splashpad Solutions Automatically
The Splashpad® independently turns on and off and runs exactly as programmed 24 hours a day, 7 days a week. The Vortex Command Center incorporates the most reliable and innovative technology to run our Splashpads™, controlling both waterflow, spray sequences, the intervals of operation and other functions.

Safety Is Such A High Priority, Vortex Has Invented Additional Protection
A Vortex Splashpad® is the safest and most reliable aquatic play product on the market. In fact, Vortex developed Toeguard™ - made of soft-touch elastomer - to encase the anchoring of the play modules to protect busy feet from hard bumps. Nozzles and spray jets are flush mounted and the play structures are climb-resistant and are constructed in accordance with public play equipment standards.

Vortex Transforms Premium Materials Into Extraordinary Products
Splashpad® aquatic play products are produced using stainless steel and brass for maximum durability and precision. The visually appealing translucent components are made of our impact-resistant Seeflow™ polymer which allows Splashpadders to see the flowing water and adds an element of fun while maintaining durability for all of our Splashpad® solutions.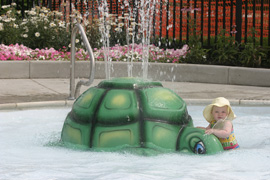 Choose A Water Management System That's Right For Your Environment

The Splashpad® features two options for water management: flow-through – where water is simply transported back into the environment without circulating or reprocessing, and the Vortex water quality management system (WQMS) for recycling and reprocessing water – which complies with the most stringent of quality standards. The WQMS, while fully automated, does require regular water quality monitoring by trained and qualified maintenance staff.

Vortex Has Invested In Your Long Term Protection
Vortex systems are designed for easy upkeep and long term use. By using highest quality materials, technically proven components, precision workmanship and superior after- sales support combined with leading-edge operation systems, the terms of a Vortex warranty are far above the standard. We guarantee the sustainability of your investment.

---